About Us
The St. Thomas Knanaya parish was founded by H.E. Abraham Mor Clemis in 1987 as a part of the North American Knanaya Community. Most of the members of this parish were formerly members of St. Peter's parish in Yonkers, NY. During the early years, service was conducted at rented buildings in Clifton, Nutley and Long Island. In February of 2000, we bought the church building at 186, Third St. in Clifton, New Jersey and thus it became the largest church in the North American Knanaya Community and the fifth Orthodox Church in Clifton, New Jersey. The spacious church building has a 350 people capacity sanctuary, a fully finished basement, and a large parsonage. It was the answer to our prayers for several years and strong and honest cooperation among our members that enabled us to enjoy such a precious gift.
Rev. Fr. C.A. Thomas was our first Vicar. Since then, V.Rev. Dr. Abraham Thomas, Rev. Fr. Thomas Abraham and Rev. Fr. Jacob Chacko had served as Vicars. Rev. Fr. Thomas Abraham is our current vicar.
We have our Sunday service every week at 9:30AM. We also have regular Bible study and discussions lead by one of the youth members on Sundays. We hold our Sunday service, the Holy Eucharist in English once a month for the benefit of the youth who are born and brought up in this country. Our youngsters take active part in the Knanaya Youth organization. At the last Knanaya convention held in Chicago our parish was awarded several trophies including over all championship. Charity work is very important to us, besides collecting money for several specific charities at times, we operate an education fund and a widow fund from which we help several needy every year.
Members of St. Thomas Church are mostly first generation Immigrants and their children from the mother community in Kerala, India, the Knanaya diocese of the Universal Orthodox Churches. The Knanaya Church owe its allegiance and faith to the Holy See of Antioch headed by His Holiness Ignatius Zacha 1, the Patriarch of Antioch and all the East, headquartered in Damascus Syria.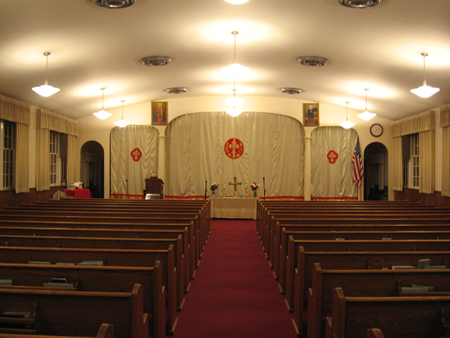 Inside View of Church Sanctuary